Data protection with Unified Backup
Why are backups important for my business?
Backing up files from company servers and employee hard drives is essential for businesses. With reliable and close-meshed data backup, ransomware can harm your data in the future just as little as system crashes, accidents or user errors: Based on an initial full backup, up to four backups are carried out daily.
Individuelle Sicherungsintervalle
Bis zu 44 Wiederherstellungspunkte
Einfache Bedienung über Web-Portal
DeltaPro-Technologie reduziert Datentransfer
Verschlüsselung aller Daten vor dem Versand
Vielseitige Wiederherstellungs-Optionen bei Datenverlust
EU-DSGVO ready
Your backup software at a glance
Data backup is considered time-consuming, storage media and bandwidth intensive. Unified Backup from Securepoint is a cloud solution. In future, you can leave hard drives and other storage media in the drawer. Backup cloud applications ensure maximum availability and fast, reliable recovery of your data.
Individual backups - you have the backup in your hand
For regular data backups, you can configure up to 44 backup points, which also serve as restore points. Instead of the daily and monthly backups that are common in the industry, Unified Backup allows you to make up to four backups a day - fast and resource-saving thanks to Delta Pro technology: Based on an initial full backup of the entire data stock, only the respective changes to individual files are transferred quickly and without gaps in the subsequent backups.
Should an emergency occur, you need to be able to restore your data quickly. Up to four backups a day enable you to restore individual files or entire drives with a high degree of up-to-dateness. In this way, data that has been accidentally changed or moved to the recycle bin is available again in the shortest possible time.
In the event of a disaster recovery, thanks to DeltaPro technology, you always have access to a complete backup instead of stitching together individual increments.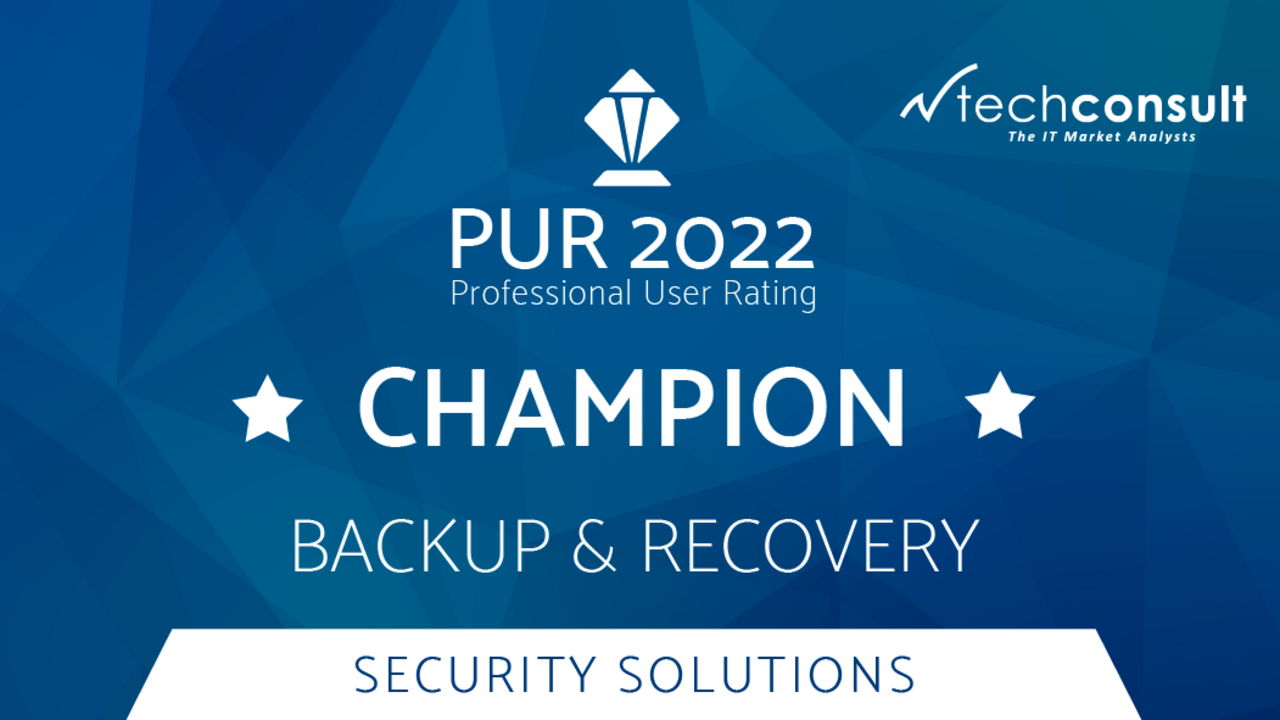 Ausgezeichnet: Unified Backup
Unsere datenschutzkonforme Lösung Securepoint Unified Backup hat gleich bei der ersten Teilnahme an der Studie durch die durchgängig sehr guten Bewertungen der Anwenderinnen und Anwendern einen Spitzenplatz im techconsult-Diamanten erreicht.
Securepoint Unified Backup enables companies to easily back up their data in the cloud in compliance with the EU Data Protection Regulation (GDPR), as there is no data transfer to countries with different data protection regulations.
Products developed by Securepoint are guaranteed to be free of backdoors. These "backdoors", which are present with some manufacturers, can represent vulnerabilities and allow unauthorised persons access to your data.
Diese Betriebssysteme unterstützt Unified Backup