Ja, ich bin ausdrücklich damit einverstanden, dass meine Daten an Youtube übermittelt werden.
Die Securepoint GmbH ist ein führender deutscher Hersteller zuverlässiger Cybersecurity-Lösungen und -Services für kleine und mittelständische Unternehmen (KMU), Behörden und Institutionen. Unsere IT-Security-Strategie heißt Securepoint Unified Security. Diese erlaubt es Organisationen, sich ganzheitlich vor Cyber-Angriffen und Schadsoftware zu schützen. Zu den Schichten der Unified Security gehören unter anderem:
Netzwerkschutz
Lokaler Schutz für mobile und feste Arbeitsplätze
Lösungen für Smartphones und Tablets
Datenschutz
Cloud-Schutz
Backup und E-Mail-Archivierung
Verschlüsselte Verbindungen
Cyber-Awareness-Trainings
Produktschulung und -support durch Fachkräfte aus Deutschland
Über 4.700 Systemhäuser und Anbieter von Managed Security-Services vertrauen allein im deutschsprachigen Raum bereits auf unsere Lösungen. Der Support unterstützt als größte Abteilung des Unternehmens Fachhandelspartner ab der ersten Minute kostenlos bei der Einrichtung und dem Betrieb der IT-Sicherheitslösungen. Gemeinsam mit unseren IT-Partnern schützen wir so bereits mehr als 120.000 Netzwerke von KMU, Behörden und Institutionen vor Cyberangriffen und Schadsoftware.
Wir entwickeln und programmieren unsere IT-Sicherheitslösungen selbst und in Kooperation mit deutschen Hardware-Anbietern, sind Mitglied im Bundesverband IT-Sicherheit e.V. und tragen die TeleTrust-Vertrauenszeichen "IT Security made in Germany" und "IT Security made in EU". Selbstentwickelte Lösungen sind garantiert frei von Backdoors.
Alle Cyber-Security-Lösungen und -Services werden laufend mit sehr guten Ergebnissen gegenüber dem Wettbewerb verglichen. Dabei wurden sowohl die Produkte als auch das Unternehmen in seiner Rolle als Partner für den Fachhandel wiederholt ausgezeichnet. Eine Übersicht der Auszeichnungen finden Sie unter https://www.securepoint.de/unternehmen/auszeichnungen.html.
Securepoint ist inhabergeführt und beschäftigt mehr als 200 Mitarbeitende an Standorten in Lüneburg, Potsdam, Stuttgart, Nürnberg, Kiel, Velbert sowie in der Schweiz. Die Verantwortung gegenüber den Mitarbeitenden, der Gesellschaft und der Umwelt nehmen wir durch konkrete Maßnahmen wahr.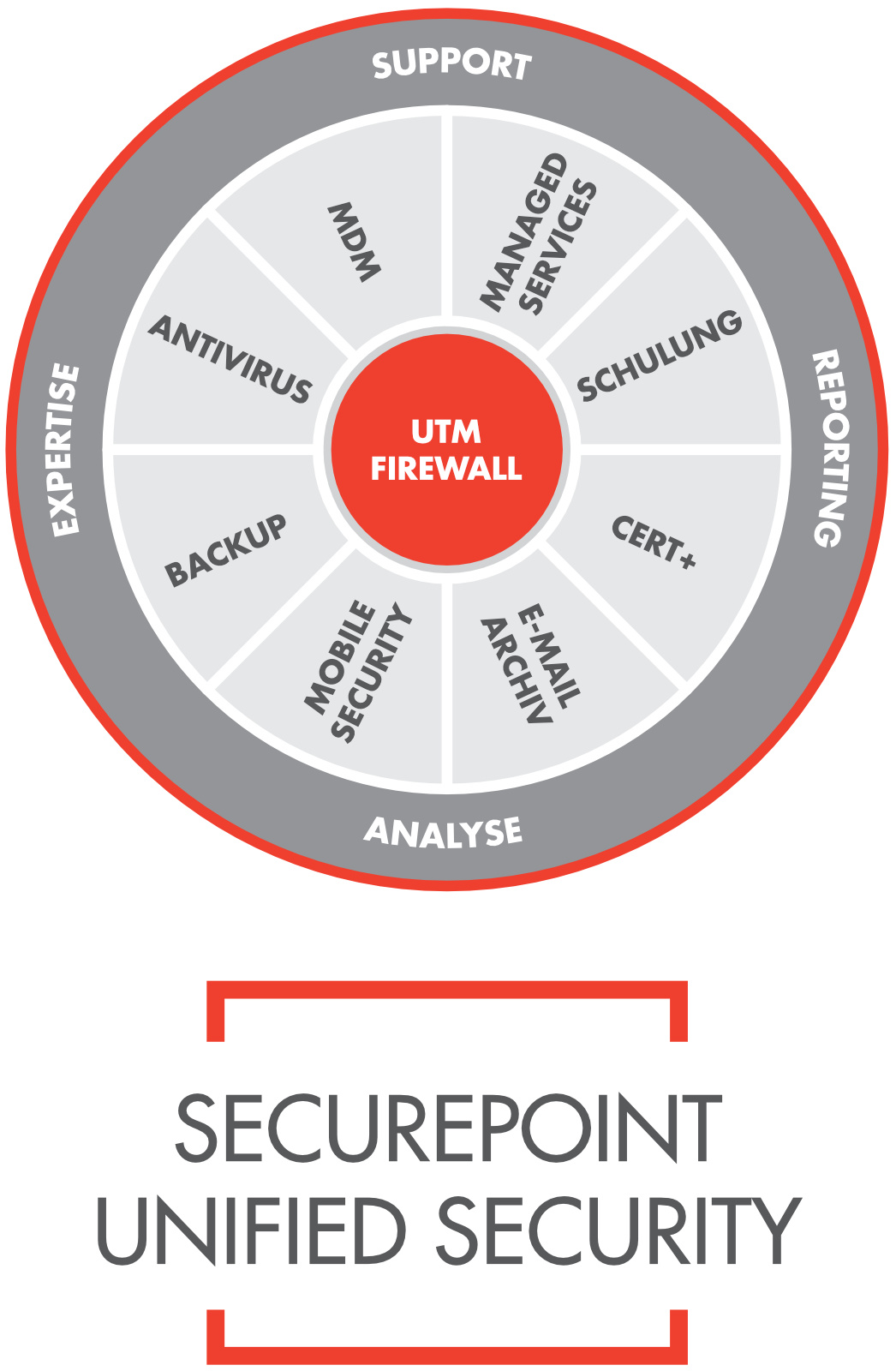 Quick facts about Securepoint
Securepoint is an owner-managed company
Bank/credit reform ratings: Securepoint has an A bank/credit rating
Awards: All our cyber security solutions and services are continuously benchmarked against the competition with very good results. Securepoint has received, among others, the Channel Excellence Award 2021 as the best security vendor in D-A-CH, several awards of the techconsult Professional User Rating 2021, the Cyber Security Award of funkschau, the IT-Business Award and as ICT Channel Champion.
200 employees – including 12 TÜV certified data protection officers
Product development, product support and the sale of German IT security solutions for networks, mobile devices, IT workstations and clouds as part of the holistic Securepoint Unified Security
OEM manufacturers of Wortmann TERRA VPN/UTM products
Strategic partnership with Wortmann
Head office in Lüneburg near Hamburg
Subsidiaries in Potsdam, Stuttgart, Switzerland and Austria
The Securepoint Philosophy
EXPERIENCE:
Securepoint has been successful in the business of security product development for over 20 years and has vast knowledge in the IT security area. We provide our partners with this expertise.
FINANCIAL STRENGTH:
As one of very few companies in this industry, Securepoint is on a secure self-financing footing, generates profits and enjoys complete independence from external investment.
RESPONSIBILITY:
We speak your language. Almost all of Securepoint employees work in Germany and over 50% have been educated in universities or technical colleges. With a training rate of around 10%, we have also been supporting our young professionals for many years.
PRODUCTS:
Securepoint develops highly efficient IT security products that have been in use successfully for many years and are well established in the market. We offer customers comprehensive company protection.
QUALITY:
Our on-site development and hardware production in Germany give us complete control over our business processes and products and also allow us to cater for customers' individual requests.
FLEXIBILITY:
We assist our retail partners and systems houses using our know-how with small to large, complex projects. This enables our partners to reach their objectives quickly and successfully.
SERVICE/SUPPORT:
Our very own service centre in Germany supports all retail partners and systems houses expertly in the German-speaking regions. We provide help with consultation, training, concept development, tendering support and project implementation.
SPEED:
We are usually able to help our partners within minutes in support cases. Our support is free of charge for partners and has been a figurehead of our company for years. Unbureaucratic support and project assistance are a given here.
DISTRIBUTION STRUCTURE:
Securepoint works indirectly via distributors, specialist retailers and systems houses. Unlike many competitors, Securepoint does not carry out any direct projects. We work on security projects together with our partners and forward any customer queries to them.
TRAINING:
We offer our partners extensive technical and sales training.
MOST IMPORTANT...
... to us are our partners and their customers. You can be sure about that!
Securepoint means IT security made in Germany
Securepoint is a member of the German IT security association TeleTrusT. The Securepoint solutions for network security, WLAN management and email archiving have the quality mark "IT-Security made in Germany". Securepoint, with its expertise and its products, meets all of the important criteria required:
Head office for research and development is based exclusively in Germany
Guarantee of reliable security solutions
Commitment to preventing any hidden accesses for third parties (no backdoors)
Promise to comply with the German data protection law
This quality mark gives Securepoint partners and customers the assurance required to choose IT security products that are subject to the strict German data protection guidelines. The quality mark "IT-Security made in Germany" (ITSMIG) has been in existence since 2005 and was initiated by the Federal Ministry of the Interior and the Federal Ministry of Economics and Technology, together with representatives of the German IT security industry. TeleTrusT has since taken over responsibility for all activities and leads the working group, ITSMIG, for this independently.

TeleTrusT Certificate (PDF)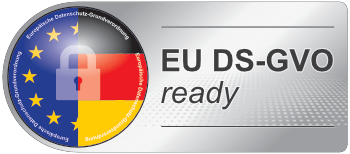 EU DS-GVO ready (EU GENERAL DATA PROTECTION REGULATION):
without backdoors
IT solutions without backdoors
Securepoint GmbH guarantees to fully comply with Section 2.4 of the supplementary terms and conditions for the purchase of IT products (EVB-IT Purchase Conditions - Version 2.0 from 03.17.2016):

Securepoint provides IT products free of malware (viruses, worms, trojan horses), for example in boxed drivers or firmware. Securepoint also ensures, that the products to be shipped are free of functionality, which compromises or threatens the integrity, confidentiality and availability of hardware, other hardware and/or software or data and thereby damaging the confidentiality or security interests of the client by
functions for unwanted sending/extraction of data,
functions for undesired changes/manipulation of data or the process logic or
functions for unwanted reading of data or unwanted feature enhancements.
It is Securepoint's commitment, to ensure that the delivered products do not include any hidden access identifiers and -mechanisms, which will allow third parties a controlled access or disabling of security-related functions. An intentional weakening of encryption methods (eg. by wilfully shortened keys, incorrectly implemented encryption algorithms, weakened random generators, concealed master keys or information concealed in data streams which simplify encryption) is not used in Securepoint's products.

Backdoors? Not with us!
Founded in 1997, the Securepoint GmbH literally lives the "No backdoors" idea. Thanks to the in-house development, we can guarantee that our IT products are developed free of backdoors. We protect our customers and adhere to the backdoor liberty clause (also called "technical no-Spy clause").

No Backdoors Prospekt - German (PDF)
Member of the alliance for cyber security
The alliance for cyber security is an initiative from the Federal Office for Information Security (BSI) that was founded in cooperation with the Federal Association for Information Technology, Telecommunications and New Media (BITKOM).

As a consortium of all of the important actors in the area of cyber security in Germany, the goal of the alliance is to increase cyber security in Germany and to strengthen the resistance of Germany as a location against cyber attacks. To this end, the alliance for cyber security is building an extensive knowledge base and supports the exchange of information and experience.
"We at Securepoint GmbH guarantee, that all our IT products are developed free of backdoors."

Lutz Hausmann, Managing Director (CEO)
We all have something that drives us
We all have something that drives us: Securepoint makes an appearance in the image report of the Volksbank Nordheide eG and Volksbank Lüneburger Heide eG...
Product development with the aid of Brandenburg and the EU
This project was supported with funds from the Brandenburg Ministry for Economic Affairs and the EU. The author is responsible for the content of the publication.
Securepoint and Linux
Securepoint is closely connected to the Linux community. Securepoint software can be found in almost every Linux kernel. Click on the link Securepoint Linux Sources to find the Linux source codes of Securepoint systems that are used. Securepoint supports the OpenVPN association and is a corporate member. The Securepoint OpenVPN Client is a VPN-Client developed by Securepoint that you are welcome to use free of charge. If you have any questions about this, please contact us!